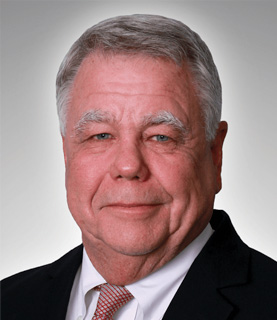 George C. Convy, Principal
Main Line +1.314.862.5000
Direct Line +1.314.548.5843
Mobile +1.314.775.8610
George C. Convy, Principal
Since 1975, George Convy has served high-profile clients including Cigna, Concordia Seminary, DuPont, Emerson Electric, Johnson & Johnson, Regions Bank, Nestle Company, Novus International, Siemens, Belden, Washington University, Metro Transit, Wexford Capital, Mass Mutual, CIBC Bank, Thrivent Financial, and Places for People.
After 25 years with CBRE, Convy specializes in office, healthcare, and institutional properties. His early experience in the banking industry, specifically mortgage and lending, augments his commercial real estate proficiency.
"I like the challenge of putting the puzzle pieces together," says Convy. "It's satisfying to connect the dots and arrange the pieces that create a successful transaction for my clients."
Convy is well known for valued relationships and challenging the six degrees of separation concept. A St. Louis native, his network began with his large family, and grew through school connections, local community involvement, colleagues, clients and referrals. Currently, his extensive business connections have established a remarkable network throughout the region and beyond.
Convy is a licensed broker in Missouri and Illinois. He holds an MBA from the Olin School of Business at Washington University of St. Louis, and a Bachelor of Business Administration from the University of Notre Dame.