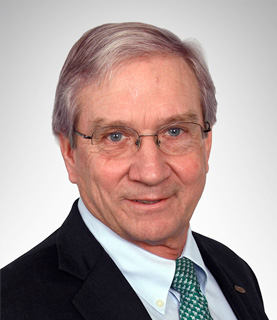 Kevin Farrell
Main Line +1.314.862.5000
Direct Line +1.314.548.5841
Mobile +1.314.409.9889
Kevin Farrell
In 1978, Kevin Farrell began his real estate career with White Company, where he helped develop West Port Plaza, a 1M-square-foot mixed-use property in St. Louis. The location included two company-owned Sheraton hotels, 500,000 square feet of offices, and 200,000 square feet of restaurant/entertainment/retail space. Since then he has continued to specialize in property management, tenant representation, acquisitions, and redevelopment.
After serving six years as President of White Management Company, and then two years as President of the holding company, Farrell made a calculated move. He purchased a manufacturing company, renamed St. Louis Steel Products—where he introduced new product lines and also patented an innovative new offering. The business sold in 2001 to a division of Tyco. During this time, he also became a founding shareholder in Allegiant Bancorp, serving on the Board from 1989 until its sale in 2004, and as Corporate Secretary from 1995 when it became a public company. Allegiant grew from $30 million in assets to $2.1 billion at the time of its sale.
Farrell's first full-time position was with the National Conference of Catholic Bishops in Washington, D.C. That was the springboard to significant volunteer opportunities, including key positions in the management of Pope John Paul II's trips to the U.S. in 1979 and 1987. Currently, he is a Board Member and Treasurer of Catholic Relief Services, which in 2016 served 120 million people in 110 countries with its $970 million budget.
A native St. Louisan, Farrell participated in Leadership St. Louis, which led directly to a volunteer position with United Way of Greater St. Louis in 1981. He has served there continuously in a variety of roles, including three years as Chairman of the Community Investment Committee. He currently is a member of the Board of Directors and its Executive Committee.,
"Whether it is business or community service, I strive to develop consensus within diversity," says Farrell. "My vision, both locally and globally, is focused on creating positive opportunities for personal development in the world."
He holds a degree in Political Science and Government from the University of Missouri-Columbia.